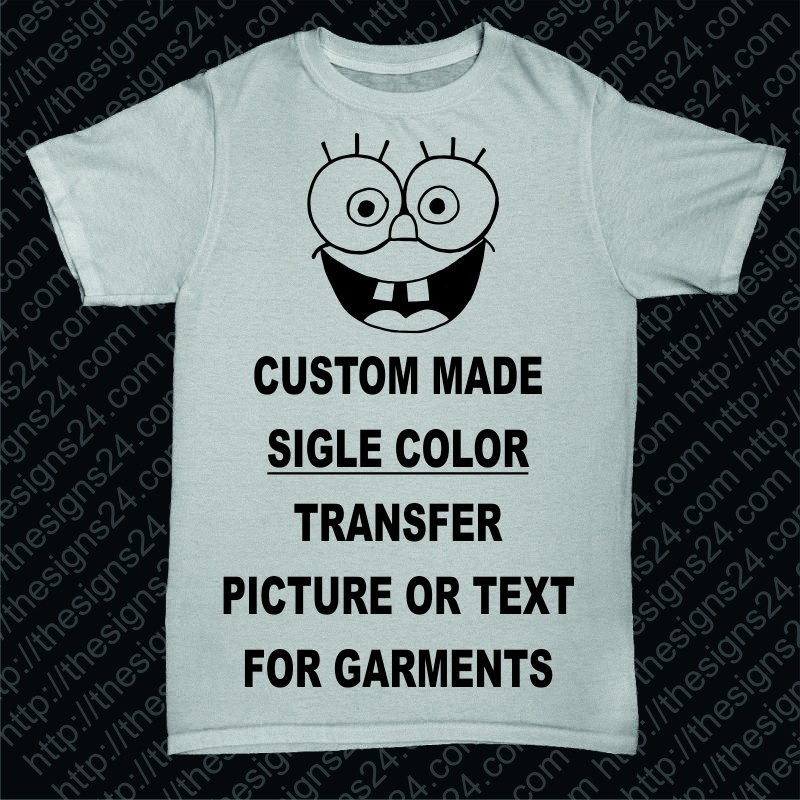  
Custom Made Single Color Transfer Picture for Garments
Do yourself or your friend a T-shirt or a cloth bag with a memorable monochrome picture on it. We cut your images from special heat transfer film and you can put it onto fabrics afterwards. It is easy... see below how it is done. The result will be beautiful and long lasting. Choose your size and color below, you can send your design with e-mail or upload right down here.
We use high quality premium grade pre-colored polyurethane transfer film and cut your monochrome image into it. POLY-FLEX Premium is an ecologically proven polyurethane film with matte reflection free surface. It is used to produce single color imagery onto garments, in accordance with OekoTex® Standard 100 category 1. This transfer film is suitable to transfer imagery onto textiles like cotton, mixtures of polyester/cotton and polyester/acrylic. POLI-FLEX Premium can be used for lettering on T-shirts, sport & leisure wear, sport bags and promotional articles. This material is washable up to 60 °C, suitable for tumble dry and dry-cleaning.
It is a good alternative to the T-shirt shop image service if you live in the countryside or you do not have time or will to spend time in a shopping center. Order a picture from us and we will send you the polyurethane heat transfer film with your image cut into it. You just have to remove the excess vinyl around the image, take out your iron and press the picture onto the desired garment.
For application you need an iron, a fabric or a garment that can be ironed on a firm flat surface that can withstand heat. Preheat your iron to 160°C (usually ** or ***). Place the transfer picture on the desired place on the fabric so that the clear plastic side is on the top side. Iron it for about 10-25 seconds with medium pressure and peel the plastic off as soon as the image has cooled down but still not completely cold. All done.
The garment must withstand heat, some garments might loose color with heat although the garment itself is good for ironing. Therefore we recommend evaluation on a test material.
Choose your t-shirt heat transfer picture color and size preferences above. The color does not have to be the same as in your image file, as we use pre colored polyurethane heat transfer films and color in the file does not matter.
Your design file is needed to get the contour of the image. Therefore black and white pictures would work the best, as these colors have better contrast. Please add your picture and/or text to the product customization tab before adding to cart. Or send your design via email to info@thesigns24.com after submitting your order. If you need larger quantities, then ask for quote via email.

We accept designs as vectors (SVG, EPS; PDF, AI) and as raster images (JPG, TIFF, GIF, PNG and others). If you send us a raster design, then please make sure it is at least 300dpi.
Pictures are machine cut with a maximum size unless otherwise stated. If you would like a custom sized picture, then write your desired measurements in the product customization fields.
Data sheet
Application Temperature:

160-175°C

Underlying Material:

cotton, syntethics

Manufacturer:

T-tape

Product type:

Polyurethane heat transfer vinyl for fabrics

Washing Temperature:

up to 60°C
No customer reviews for the moment.
Customers who bought this product also bought: