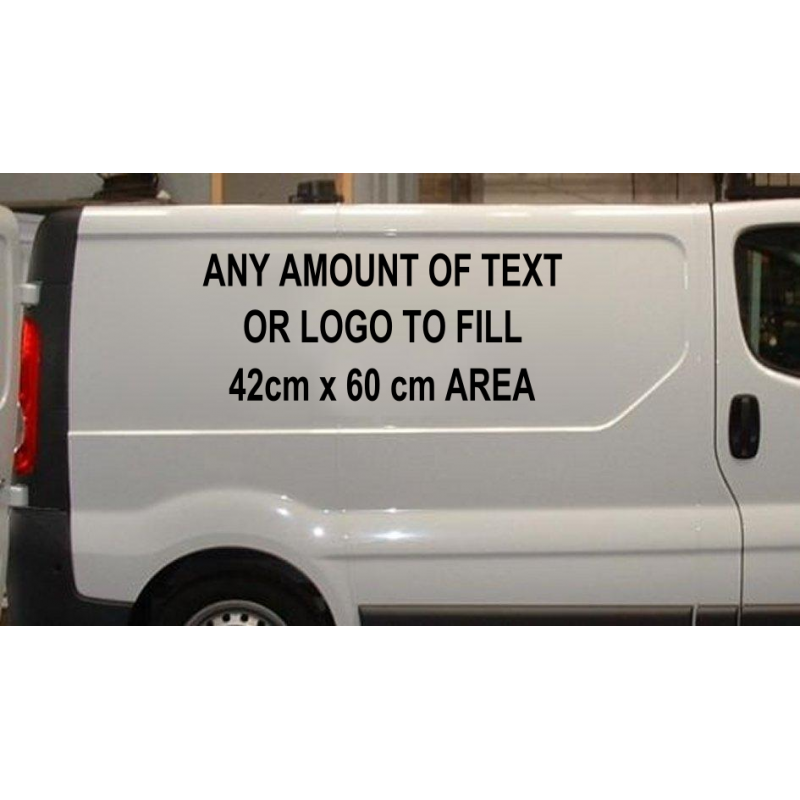  
Stickers with custom design text or logo, different sizes available
Fully customizable monochrome weatherproof decal that is ideal for applying on cars, walls and windows.
Make yourself visible with vinyl decals, choose suitable size and color. You can send your design to our e-mail or upload it right below. The size represents the size of the pane, not the decal itself (it is the maximum size).
Self adhesive vinyl decal with custom designed text or logo

Our custom-made weatherproof single-color vinyl stickers are ideal for car, window and wall mounting. We use high-quality films with outdoor life span of up to 8 years to make decals.
Cut-out stickers differ from print-out decals so that no ink is used and instead the outlines of the image are cut out from precolored film. Cut-out film stickers are generally more durable than printed self adhesive advertisements, they do not fade or wear out like printed stickers. Cut-out stickers are background-free and the background is formed by the substrate you stick the decals on.
This product is monochrome, but multicolored designs with no color gradients can be implemented. To make a multicolor cut-out sticker, you should add each color to shopping cart separately. Each shade of a multicolored cut sticker is made separately and is usually applied separately. If you want to use photos in the sticker design, you should choose a decal printing service. Also please keep in mind that the product of cut-out sticker is not suitable for making images that contain only few millimeter thick parts.
The main selection of sizes and colors are available above this description. Depending on the settings on each screen, the color tone may vary slightly from reality. Dimensions indicate the maximum size of the sticker, the desired size may always be smaller, but not larger. We can also make stickers with larger dimensions than available, but then you should increase the amount in the shopping cart. For example, if you want a 2-meter long sticker, the quantity should be 2 pcs for one meter sized option. It is also possible to accommodate 2 to 4 smaller stickers on the selected size, provided that the images or portions of them do not become as small as few millimeters.
Please add your logo and/or text to the product customization tab before adding to cart or send your design to info@thesigns24.com. Ask for quote for larger quantities. We expect vector files eps, svg, ai, pdf, etc. as work files, the outline is essential.
Stickers have 1 year warranty. If all the installation and maintenance procedures have been followed and film graphics show defects such as breakage, cracking, peeling, loosening or significant bleaching-fading, then the customer has the right to ask for repair or replacement of the product. The warranty applies when the error of the product was not caused by exposure to chemicals or petroleum products, or mechanical damage.
Data sheet
Material:

vinyl

Outdoors durability:

Kuni 8 aastat

Operating Temperature:

-40°C.. +80°C

Application Temperature:

+8°C..+30°C

Thickness:

90...100 microm.

Application Surface:

smooth, straight, slightly curved

Underlying Material:

glass, plastic, acrylic, aluminum and other metal surfaces, PVC, painted surfaces, paper

Glue:

transparent pressure sensitive permanent adhesive, leaves no traces

Manufacturer:

3M / Avery / Metamark
No customer reviews for the moment.
Customers who bought this product also bought: