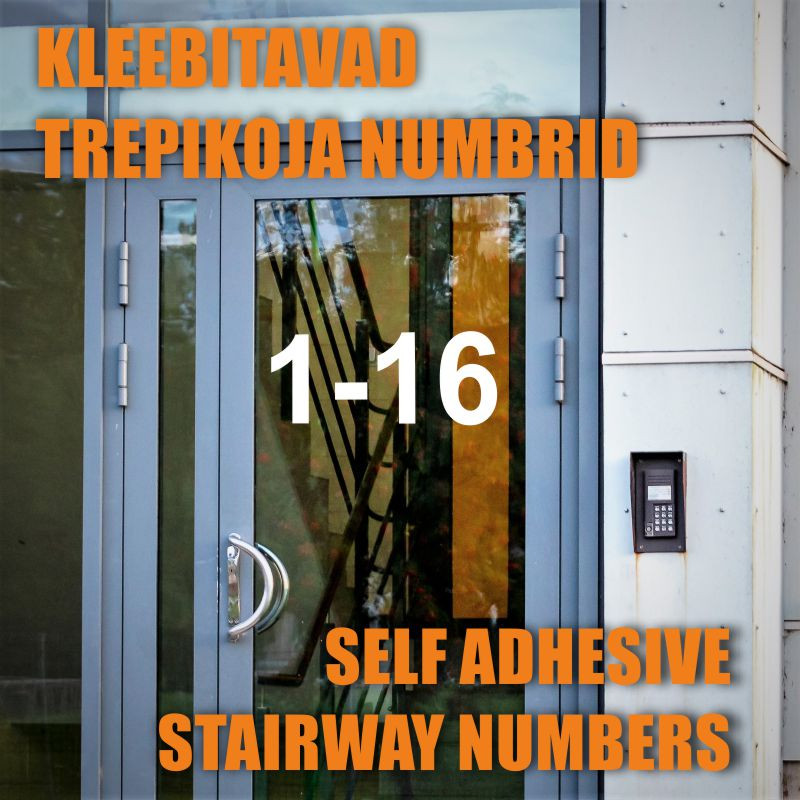  
Self adhesive staircase numbers for apartment buildings and office buildings, staircase number decal
Top-quality self-adhesive staircase number machine cut from pre-colored film with permanent glue. The stairwell number decals for an apartment building or office building are available in different colors and sizes, and the customer can also offer the style of their staircase numbers if they wish.
To order stairwell numbers, fill in the fields below, select the parameters of the staircase number sticker and add it to the shopping cart. Also read the longer product description below.
Data sheet
Material:

vinyl

Outdoors durability:

up to 7 years

Operating Temperature:

-40°C.. +80°C

Application Temperature:

+8°C..+30°C

Thickness:

90...100 microm.

Application Surface:

smooth, straight, slightly curved

Underlying Material:

glass, plastic, acrylic, aluminum and other metal surfaces, PVC, painted surfaces, paper

Glue:

transparent pressure sensitive permanent adhesive, leaves no traces

Manufacturer:

3M/ Avery/ Metamark
No customer reviews for the moment.
Customers who bought this product also bought: