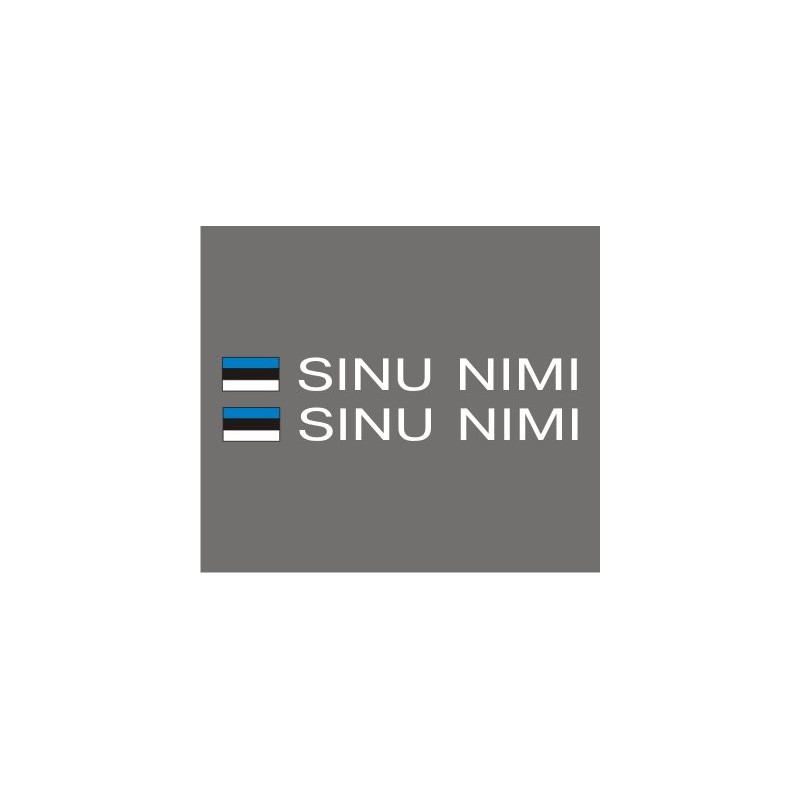  
Race Car Rally driver name tags (with flag), self adhesive sticker 2pcs
Two identical race or rally car name tag decals with flags for both sides of your race or rally car. You can order the rally name stickers with names and flags you prefer. Please write your desired name under the customization tab before choosing decal properties.

Two identical top quality race or rally car name tag decals with flags to be installed onto rally race car side windows or fenders.

There are two race or rally car driver and co-driver name sticker sizes available. Bigger set of rally car name stickers (60mm x max. 600mm) are used mainly on the back side windows of a rally car and smaller set of rally driver name stickers with flags (30mm x 350mm) are often applied on the front wings of the race car.

Due to the shop software quirks, if you want your own customized flags with the order, then please upload and save your own flag picture before you choose customer uploaded flag option or any other decal properties from drop down menus, otherwise default Estonian flags will be added to the decal set instead.

Stickers have 1 year warranty. If all the installation and maintenance procedures have been followed and film graphics show defects such as breakage, cracking, peeling, loosening or significant bleaching-fading, then the customer has the right to ask for repair or replacement of the product. The warranty applies when the error of the product was not caused by exposure to chemicals or petroleum products, or mechanical damage.
Our race or rally car driver or co driver name tag decals with flags are made in the EU.
Data sheet
Material:

vinyl

Outdoors durability:

up to 7 years

Operating Temperature:

-40°C.. +80°C

Application Temperature:

+8°C..+30°C

Thickness:

90...100 microm.

Application Surface:

smooth, straight, slightly curved

Underlying Material:

glass, plastic, acrylic, aluminum and other metal surfaces, PVC, painted surfaces, paper

Glue:

transparent pressure sensitive permanent adhesive, leaves no traces

Manufacturer:

3M/ Avery/ Metamark
No customer reviews for the moment.
Customers who bought this product also bought: