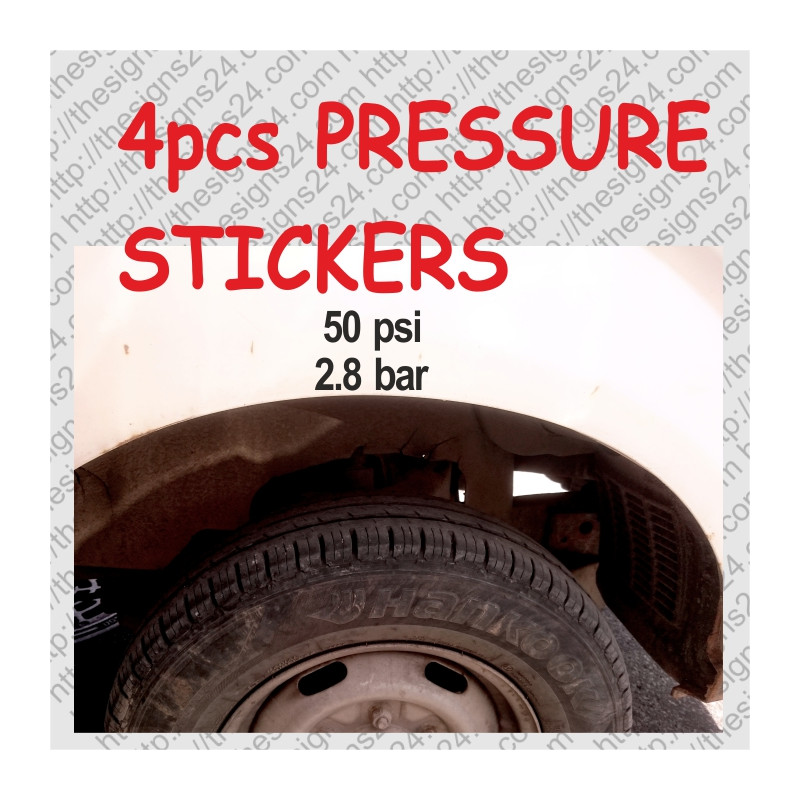  
Tire pressure stickers with for trucks, trailers, cars, tractors etc
Four tire pressure stickers with buyer's own data. Enter the desired pressure and pressure unit in the field below and save before selecting other sticker parameters.
Pressure stickers
Set of 4 identical tire pressure stickers according to the customer's wishes are cut from the pre-colored high quality vinyl film, are weatherproof with a strong glue and are suitable for use in marking tire pressures of cars, trucks, trailers, tractors and others. Apply a tire pressure sticker onto the fender above the wheel or onto the wheel itself to make sure that the car, truck, trailer, tractor, ATV receives correct tire pressures in the future.
To order a tire pressure sticker, write the desired text (pressure and unit) in the field above and save it. You can then select other sticker parameters, such as the tire pressure sticker color and sticker quantity. One set contains 4 identical tire pressure stickers. If you want stickers with different pressures, you need to order several different sets.
The stickers are available in two sizes: small pressure stickers with a large letter height of 20mm and large pressure stickers with a letter height of 35mm. The sizes and colors in the main selection can be found above. Depending on the settings on each screen, the color samples may differ slightly from reality. Dimensions indicate the maximum size of the sticker, the desired size can always be smaller, but not larger.
The stickers have a warranty. If all installation and maintenance procedures are followed and the film graphics are damaged during the warranty period in such a way as breakage, cracking, peeling, detachment or significant fading or fading of the paint, the customer has the right to request repair or replacement with an equivalent product. The warranty is valid if the product defect is not caused by contact with chemicals or petroleum products or mechanical damage.
The stickers are manufactured in the EU.
Data sheet
Material:

vinyl

Outdoors durability:

up to 7 years

Operating Temperature:

-40°C.. +80°C

Application Temperature:

+8°C..+30°C

Thickness:

90...100 microm.

Application Surface:

smooth, straight, slightly curved

Underlying Material:

glass, plastic, acrylic, aluminum and other metal surfaces, PVC, painted surfaces, paper

Glue:

transparent pressure sensitive permanent adhesive, leaves no traces

Manufacturer:

3M/ Avery/ Metamark
No customer reviews for the moment.
Customers who bought this product also bought: