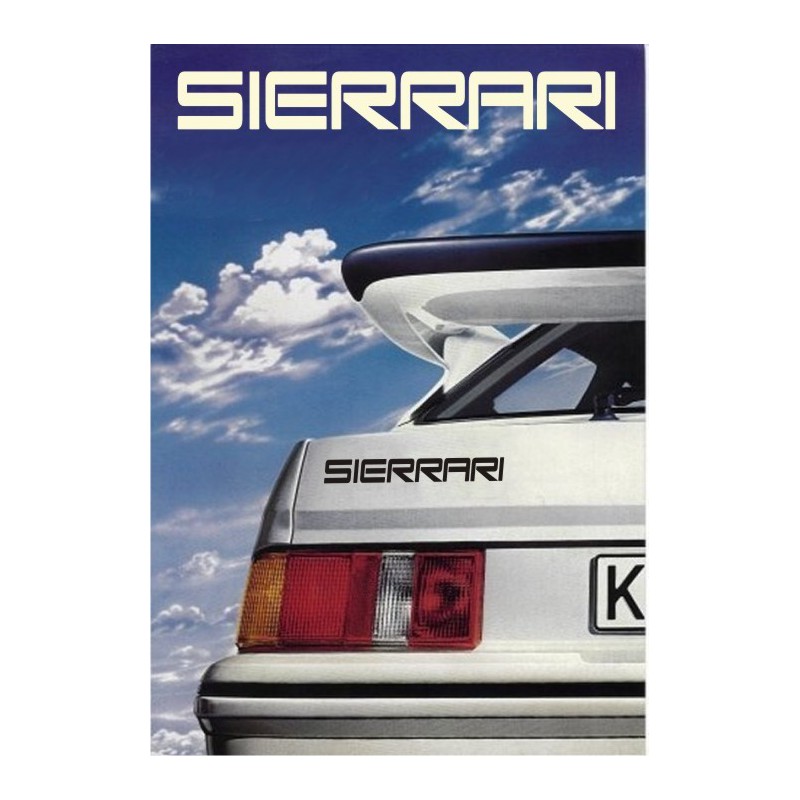  
Ford Sierra - Sierrari - self adhesive car sticker v2
Sierrari - original like designed funny sticker for Ford Sierra. Different sizes and colours available.
Sierrari version 2

You will receive one sticker in size and color of your choice.  Stickers are cut from high quality 3M (or equivalent Avery) self adhesive vinyl, that is suitable for outdoor or indoor use. Available sizes and colors can be found above the description. If the size does not fit, it is possible to make dimensions of the product more suitable for the buyer. Choose product customization tab above and write suitable size in proper cells. Colors may differ slightly from reality depending on screen settings of your computer.
Stickers have 1 year warranty. If all the installation and maintenance procedures have been followed and film graphics show defects such as breakage, cracking, peeling, loosening or significant bleaching-fading, then the customer has the right to ask for repair or replacement of the product. The warranty applies when the error of the product was not caused by exposure to chemicals or petroleum products, or mechanical damage.
Data sheet
Material:

vinyl

Outdoors durability:

up to 7 years

Operating Temperature:

-40°C.. +80°C

Application Temperature:

+8°C..+30°C

Thickness:

90...100 microm.

Application Surface:

smooth, straight, slightly curved

Underlying Material:

glass, plastic, acrylic, aluminum and other metal surfaces, PVC, painted surfaces, paper

Glue:

transparent pressure sensitive permanent adhesive, leaves no traces

Manufacturer:

3M/ Avery/ Metamark

Product type:

cut out sticker
No customer reviews for the moment.