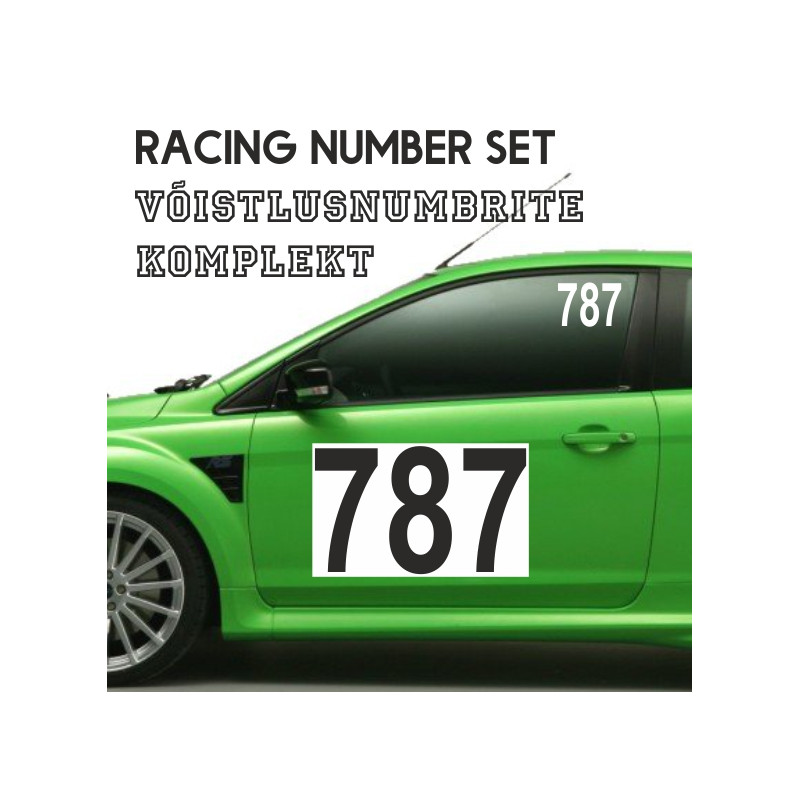  
Car Race Number Decals, stickers for the rally car 2pcs
Set with two identical rally car racing number decals for both sides of your race car. We offer two different sets: large black racing numbers on a white background for the sides and smaller white racing numbers without a background for the windows. Please write your desired racing number under the customization tab before choosing other decal properties.

A decal set with two identical rally race car racing numbers in the style shown above on the picture for mounting on the car's glass or body surface.
Race car competitor number decal sets are available in two different sizes that are common at motorsport events. The large set that contains two white rectangles (up to 600mm wide and 370mm high) with a black up to three digits numbers, is usually used on car side panels or doors. The small set contains two identical 170mm high white up to three digit number decals with no background and are used on the windows of the race car. Each set must be ordered separately, if you want to order both the small and the large set of the race car number stickers at the same time, you must add them separately to the shopping cart.
To order or to make a purchase, write the race car competition number in the product customization tab (above the product description) and save it. Then select the size and quantity of the sticker set and add it to the cart. If you want to buy several sets of numbers with different numbers, then add every set into chopping cart separately. It is important that the text of the race numbers is saved before selecting other sticker parameters, otherwise the selected parameters may be replaced with the default product parameters. If you want to order both a small and a large set of race car competitor numbers at the same time, you must add them separately into the shopping cart.
Order several sets of racing numbers at a time. This saves you postage costs and offers volume discounts. The more sets of competition numbers are in the shopping cart, the cheaper the price of one set of competition numbers will be. The ordered number stickers do not have to be the same, only the quantity in the shopping cart is important.
These self adhesive stickers are cut from high quality outdoor vinyl that is 100% water- and weatherproof and suitable for outdoor and indoor use. Our vinyl race car decals are easy to apply to any clean and smooth surface. Decals are easy to remove but are not reusable after removal.

Our race car number decal sets have warranty. If all the installation and maintenance procedures have been followed and film graphics show defects such as breakage, cracking, peeling, loosening or significant bleaching-fading, then the customer has the right to ask for repair or replacement of the product. The warranty applies when the error of the product was not caused by exposure to chemicals or petroleum products, or mechanical damage.
Our race rally car number stickers are manufactured in the European Union. Each sticker set comes with easy to follow application instructions.
Data sheet
Material:

vinyl

Outdoors durability:

up to 7 years

Operating Temperature:

-40°C.. +80°C

Application Temperature:

+8°C..+30°C

Thickness:

90...100 microm.

Application Surface:

smooth, straight, slightly curved

Underlying Material:

glass, plastic, acrylic, aluminum and other metal surfaces, PVC, painted surfaces, paper

Glue:

transparent pressure sensitive permanent adhesive, leaves no traces

Manufacturer:

3M/ Avery/ Metamark
No customer reviews for the moment.
Customers who bought this product also bought: